Chairperson & Editor's message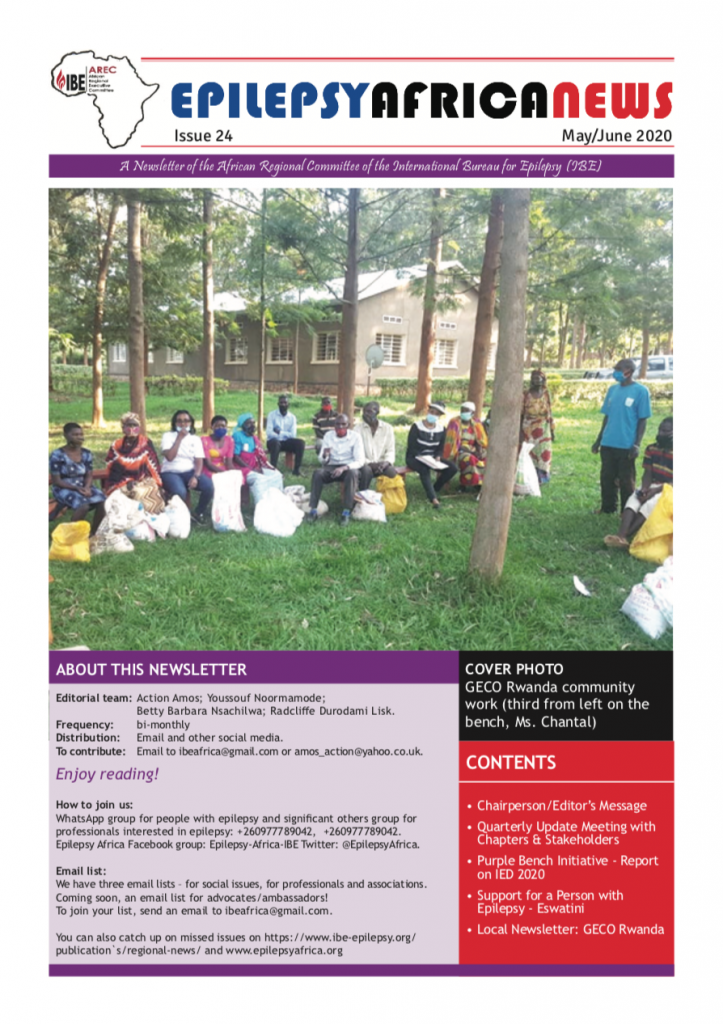 It is with excitement that we engage you in this trying time of COVID19 challenges where our work has been slowed down by the pandemic that has hit all African Countries. It is with sadness that we inform you that some of our chapters in Rwanda and Democratic Republic of Congo have been hit hard with some reported deaths of persons with epilepsy in these countries.
In this edition we share with you some of the exciting work that our chapters have been carrying out in Rwanda, Uganda and Eswatini, despite the challenges we are facing. In addition we share with you a report on the quarterly meeting we had with our chapters and the plans that lie ahead of us in the coming months.
As a region we are also excited to report on the commencement of two projects that are supported by Band Foundation- namely the Promising Strategies Grant (PSG) and Making Epilepsy A Health Priority in Africa (MEHPRI) programs. The PSG program started earnestly in April 2020 with five Chapters having been awarded to carry out innovative projects that range from inclusive education and capacity building through to use of technology, to bring out epilepsy out of the shadows of remote areas. It is with excitement that these countries have started on a high note of working on the deliverables.
MEHPRI project commenced well in May, 2020 with zeal and determination to deliver on its objectives.
By the end of the reporting period, there were engagements with International Bureau of Epilepsy Chapters filling in key roles of the project structures. Twelve (12) chapters are now in the Steering, Advocacy and Communications Committees. This will allow the project to tap from the experiences of these position holders to influence the direction of the project and ultimately contribute to the main goal of ensuring "Epilepsy is on the Health Agenda in Africa". In support of these three Committees there is a team of eight (8) Advisory Team drawn from different partner organizations such World Health Organization (WHO), Africa Union (AU), Kenya Medical Research Institute (KEMRI), International League Against Epilepsy (ILAE) and Band Foundation. During this quarter the main advocacy priority was working on the development of the advocacy toolkit with the appointed Consultants firm.
It is with no doubt that Epilepsy in Africa will not be the same in the coming months as chapters are gearing for a change!! Enjoy your reading and Stay Safe!!!
Action Amos
IBE Africa Vice President